"Geography and Education
are the perfect combination"
MIREIA CLUA CAMACHO. Secondary Education Teacher in Social Sciences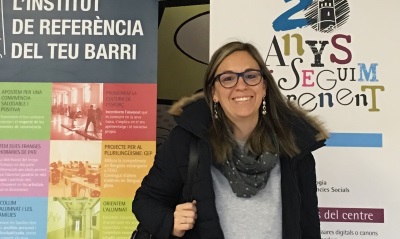 I still remember my beginnings at Rovira i Virgili University (URV). I am from a small town, I had finished my high school education and I had to choose a university degree and then move on to find work.
I had two clear ideas: the first was that I have always liked to teach and explain what I know; and the second was that I love to observe and enjoy nature and everything that surrounds me.
I started my Geography studies at the URV. I didn't really know what they would teach me, as we often relate Geography just to the world map. But I discovered that Geography includes a wide range of knowledge related to population, climate, environment, mapping and geographical information systems. I particularly liked the physical geography classes, I love everything that has to do with the environment and climate. The fieldwork we did in all of the subjects, the analyses and observations, was when we really learned to be geographers.
Currently I am a high school teacher, a job I am passionate about. It is a profession that requires vocation. Working with people is great, but you have to love it for positive results. You don't only explain geography content, you need to be able to motivate students, solve problems, relate to families, etc. Life teaches you how to do this.
Geography and teaching complement each other perfectly. With geography you learn to analyse the world we live in and with education you learn to discover and understand people. For me it is the perfect combination.